Parties & Events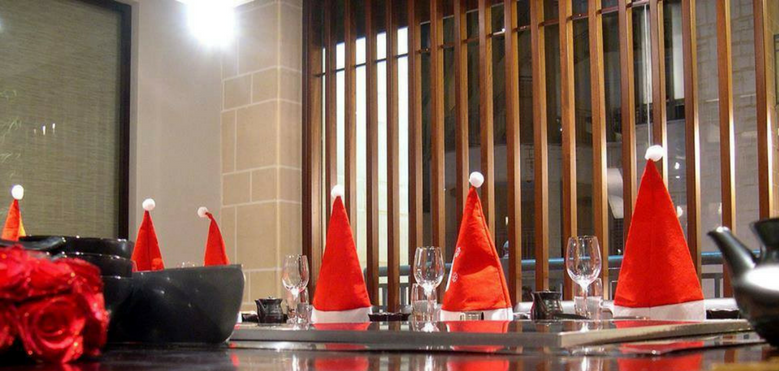 Leave your next group occasion in our hands!
Small and large groups are accepted in the main restaurant.
The management, due to time restrictions and in order to serve the customer as should be, recommends that if the group is larger than fifteen people a set menu should be chosen from the options given. We can offer exclusivity of the restaurant to groups larger than thirty guests.
An additional option offered to groups by our restaurant is to pre select the food from the a la carte menu in order to facilitate our kitchen and to reduce the time spent waiting.
Group menu proposals for Destination Management Companies (DMC's) are also available upon request.
Personalised group menu proposals are also available to clients, who should, however, inform the management a minimum of a week in advance.
Teppanyaki Dining Experience.
Enjoy a culinary experience in the exclusive surroundings of our private dining room!
Teppanyaki is a means of preparing dishes directly before the guest on specially equipped tables with an overhead hood. In North America, this method of dining is also known as "hibachi".
Teppanyaki first developed in Japan during the 1940s, from where it spread to America in the 1960s, achieving renown primarily through the Benihana restaurant chain.
It was the Benihana restaurants that introduced the innovation of adding to the food preparation a special show performed by highly skilled chefs.
At Zen, this unusual gastronomic experience is prepared for you by our highly skilled Japanese chef, with over 13 years' experience working as a Teppanyaki chef in Japan.
If you would like to add unusual zip to business negotiations, or surprise friends or family with something completely different, then Teppan is truly the right choice.
Our large central iron table can host up to fourteen guests and offers an extensive range of dishes, to suit every occasion.
Teppanyaki markedly differs from traditional Japanese cuisine. The sequence begins with the preparation of vegetables, followed by your selected type of meat or fish and finally with the addition of rice, complemented with miso soup. If you also enjoy a glass of plum wine with the rice, you can experience a splendid harmony of tastes.
All dishes are prepared in sequence, so that all tastes can be gradually and peacefully enjoyed.
Japanese food gourmands may also savour Kagoshima Wagyu Beef and Lobster.
From birthday celebrations to hen parties and family dos, Teppanyaki will be your memorable dining experience.
For further details please contact us on 21386500 or by email to nadia@zen.com.mt